Amsterdam Dental Group Introduces Same Day Dental Implants in Philadelphia
Amsterdam Dental Group is pleased to announce that it is now offering same day dental implants at its Philadelphia and Main Line offices. Our practice specializes in the most revolutionary procedure in implant dentistry, which is All on 4 Dental Implants. This procedure allows the complete replacement of a jaw full of teeth with only 4 dental implants. For most patients, this is a much more practical, reasonable and affordable alternative to full arch or oral implant restoration. All of our doctors take a personalized approach to each case and treatment plans are developed based on each patient's individual needs.
The first consultation includes a complete examination, a cone beam scanner (CBCT) and digital impressions of the patient's upper and lower jaws. At the next visit, all remaining teeth are extracted, implants are placed, and temporary teeth are attached to the newly placed implants. After the dental implant surgery appointment on the same day, a healing period of 3 months is necessary to allow complete healing. During this time, patients have a set of fixed (non-removable) teeth for chewing and smiling. After healing, impressions will then be made on the implants for a permanent all-ceramic restoration.
The All-on-Four treatment concept for dental implants is faster and less invasive than the traditional approach to full jaw implant reconstruction. Another advantage is the elimination of the need for patients to wear a removable prosthesis after tooth extraction. Same-day dental implants in Philadelphia are offered by our top dentists and surgeons who have specialized training in periodontics and prosthodontics. All of our physicians have been trained in Penn Dental Medicine's world-renowned periodontal prosthetics program and have years of experience in dental surgery, restorative dentistry, and implant dentistry.
To find out more visit https://amsterdamdentalgroup.com/same-day-dental-implants/
About Amsterdam Dental Group
Amsterdam Dental Group based in Philadelphia, PA is a professional dental clinic offering boutique services in cosmetic dentistry. Dental implants, porcelain crowns and veneers, general dentistry and cleaning, periodontal treatments, digital smile design, Invisalign, teeth whitening, digital imaging and TMJ treatment among many other dental services are offered here.
###
Contact
Amsterdam Dental Group
Address: 100 South Broad Street. Suite 2000 Philadelphia, PA 19110
Phone: 215-568-8130
Website: https://amsterdamdentalgroup.com/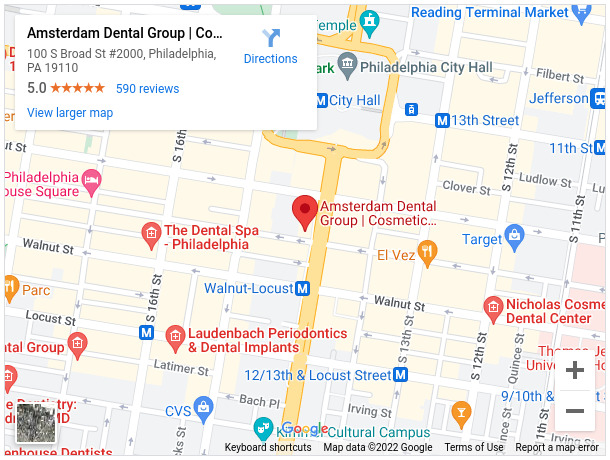 newsroom: news.38digitalmarket.com
Build ID: 447141