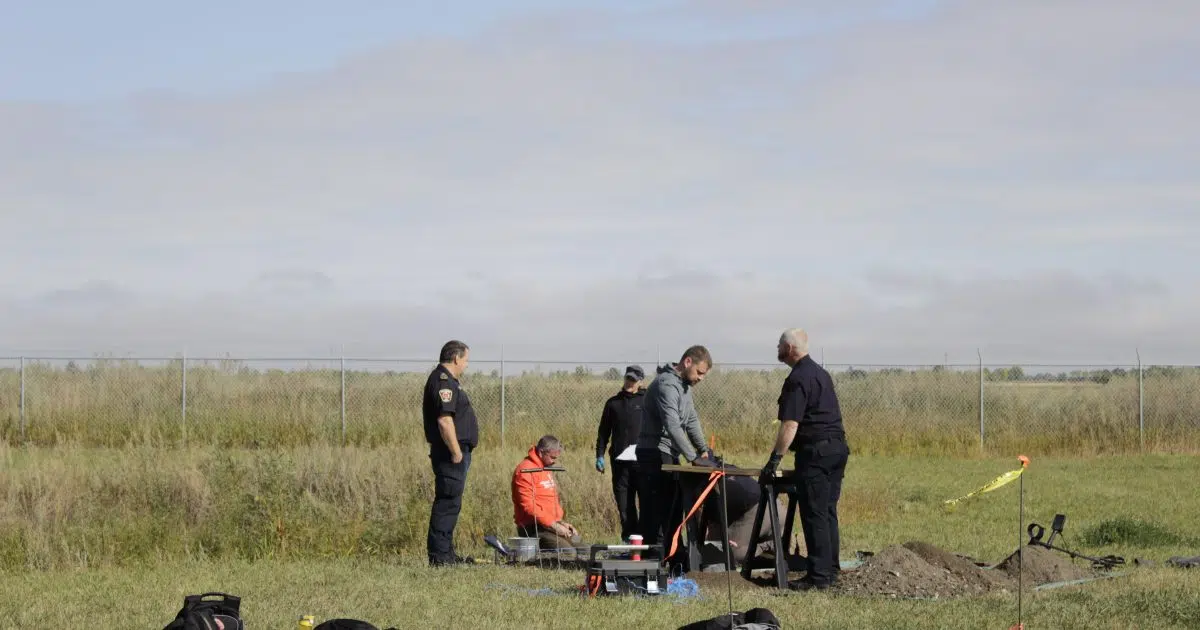 Canadian law enforcement is heading to Saskatchewan. for experience in forensic anthropology
A handful of open graves covered the Warman Fire and Rescue training ground Thursday morning, just beyond the Saskatoon city limits.
Inside the holes were scattered plastic human bones, clothing, casings and more, waiting to be discovered by a team of investigators assembled across the country.
The imitation of the remains and their excavation was part of a course on forensic identification and forensic anthropology.
Dr. Ernie Walker, RCMP special agent and forensic expert, has been teaching it for decades.
The purpose, he said, is to instruct law enforcement on the location, recovery and identification of human remains. Participating investigators spend a few days in the classroom focusing on anatomy and techniques before heading into the field to combine their knowledge with an outdoor field experience.
Walker said he taught forensic subjects ranging from digging graves to examining burned remains.
"I think the reputation of this course has definitely grown," Walker said, noting that the course was created in Saskatchewan.
"It's a class of monsters to be assembled," he said. "There are a million details."
Dr. Ernie Walker is an RCMP special constable and forensic expert who also assists municipal forces with his forensic anthropology work.
"They had to cordon off a crime scene," Walker explained. The excavation of a mock underground grave on Thursday morning taught investigators how to determine the location of a grave and then process the scene.
According to Walker, it is painstaking, scientific work that mirrors what would happen at an actual crime scene. "I've worked on almost every missing and murdered woman in the province," Walker said.
Walker's resume includes investigations like Robert Pickton's Farm, Missing Women in Saskatchewan and Alberta, and Saskatchewan serial killer John Martin Crawford.
Anytime there are remains that can't be identified just by looking at them, that's usually my file," he said.
This can include fires, car wrecks, bodies found in water and skeletal remains, in addition to homicide cases.
Much of his time may simply be spent assessing whether a bone is human or animal in order to aid law enforcement. Walker said he does this for police forces across the country.
Once the remains are located and recovered, a process of evaluation and identification begins, with the anthropologist trying to build a post-mortem profile of the information the set of remains might contain.
Walker must determine things like gender, age at death, ancestry, pathologies or abnormalities, time of death, and ultimately provide personal identification, if possible. Techniques such as dental record matching and DNA identification have come a long way, Walker said, and can play a central role in such identifications.
But investigators also rely on decomposing remains – if someone's teeth have been knocked out or there's no soft tissue left to extract a DNA sample from, these aren't viable tools.
Fires can be the toughest, Walker said, depending on how damaged a body is when it receives it.
Tasks cannot be accomplished overnight. RCMP Sergeant Donna Zawislak said course participants began their excavation around 8 a.m. Thursday, not uncovering most of the shallow contents of their grave until early afternoon.
"If we want to do it right, we have to put a process in place; we can't just go out there and dig things up," said the sergeant, who works with the RCMP's historical cases unit in Saskatchewan.
This means starting with the top layer of soil on the ground and working down layer by layer, carefully sifting through dirt and debris for clues, and documenting findings with photographs, notes and measurements, until that they expose as much as possible and can capture a clear image.In the simulation, items such as clothes, casings, empty cans and bottles, needles, cell phones and jewelry were included in the places of burial.
Walker said the goal is to make the course as realistic as possible. "It's all there," he said.
"It just doesn't smell as bad as it normally smells." Researchers in the simulation not only had to excavate the clandestine graves, but first had to determine which of several possible areas might be the best to excavate.
A few "red herring" graves were included in each area to force investigators to use probing equipment like metal detectors and ground penetrating radar to determine the best place to use their resources.
A clandestine grave excavated by investigators taking the RCMP's Forensic Anthropology course on September 15, 2022, just outside Warman, Saskatchewan.
"I've been involved in investigations where someone kind of gave a playing field…the area where something was and then we had to focus," Zawislak said, comparing the training to real-life investigations into which she worked.
Investigators had to make sure there was nothing left in a grave once they had excavated, checking for other remains or evidence that might be buried deep.
The course teaches investigators how to use old-school tools like sieves, used to find small pieces of evidence like bone and shell casings in piles of dirt and rocks, as well as more modern technologies like drones and ground-penetrating radar, which Walker says has been popularized in recent grave finds at residential school sites.
Walker said he likes to think that in Saskatchewan, police have stayed on top of these changes, particularly in the search area.
Walker said experiments such as putting pig carcasses in rivers with tracking devices attached tried to predict where the bodies in the water might end up. Studies examining marks on bones have used animal remains to see how certain instruments affect bones.
"We are always thinking about the future," he said.
Christian Rouleau of the Quebec Provincial Police in Montreal said he was grateful for the opportunity to travel to Saskatchewan to take the forensic anthropology course.
"I was really happy to come here," Roleau said.
"It's something we do a lot in our business."
Roleau said learning to identify remains as animal or human was a skill he was able to hone during the course.
"I think it's really, really good, and it's going to help me a lot," he said.
How officers leave space behind them can be just as important as the investigation itself.
After working to gather all the information and evidence, documenting every step and discovery, Zawislak said they are trying to restore the property to the condition they found it in and make it a place where families can return quickly.
Russ Austin, head of Warman Fire and Rescue, said planning for the course began in May. to hold the course for the RCMP at their training grounds just outside Warman.
Austin said he had worked several scenes with Walker in the past, saying "there is no greater resource in the province for anthropology."
He estimated that between 50 and 60 people were on the ground for the course, with people from across Canada and the United States. Walker noted that a few coroners attended, as well as numerous law enforcement investigators.
With police work in investigations under constant scrutiny, Zawislak said the RCMP wants all investigations to follow best practices.
When we visit or go to a site, a secret grave, we leave our mark there," Zawislak said.
"We are aware of the surroundings, whether there are people passing by or family watching. We had family sitting in lawn chairs and watching what we were doing, so we want to do it professionally and competently, with respect for the family…as well as the person we are looking for.
Zawislak said it was also about uncovering useful evidence later in the investigation. "It's not just about making sure we collect the evidence, but being able to use that information or that evidence," she said.
The sergeant, who took the course herself in 2007, said best practice requires resources – both equipment and officers. In the case of his unit, Zawislak said they are the only ones focused on historical cases in the province, which forces his team to travel for hours to various isolated communities in Saskatchewan, bringing those resources in tow.
"There are a lot of missing people everywhere, including in Saskatchewan," Walker said, explaining that some officers will be using the tools they learned from the course within weeks. The final part of the course is on Friday, with a session involving soft tissue, Walker said.