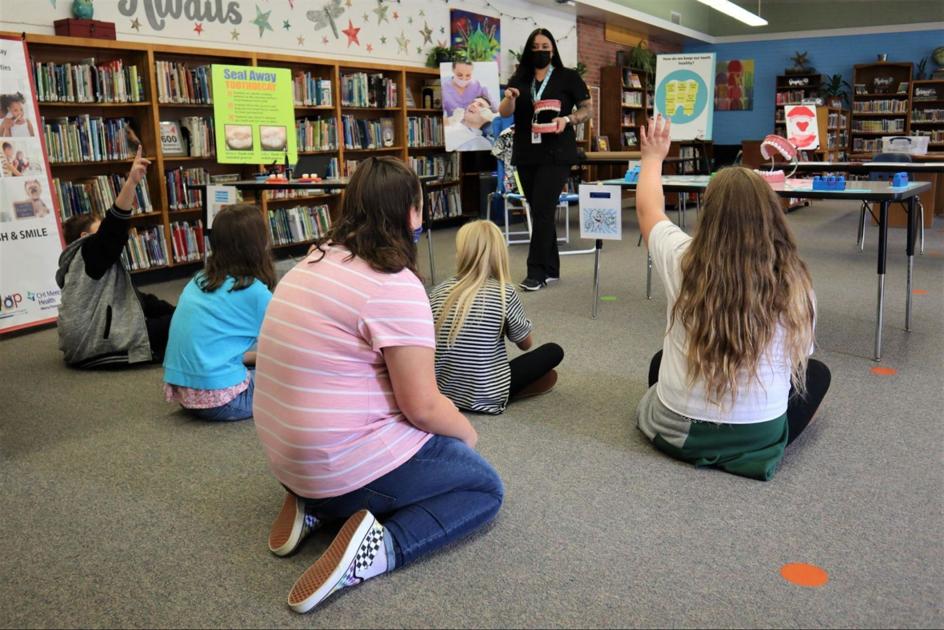 Healthy Kids Outreach Program Shares Dental Health Information with Youth Across Country | Education
[ad_1]
The Mercy Foundation's Healthy Kids Outreach program helps educate Douglas County youth about dental health.
"The Healthy Kids Outreach program offers twice a year prevention clinics with screening, fluoride varnish, silver diamine fluoride and other high risk-based services and parental consent form," said Michelle Wilfong, specialist in dental education. "Our community dental health coordinator works with families to connect them for urgent / immediate needs follow-up as well as to establish a dental home. "
HKOP provides preventive health services and comprehensive health education to schools in the area, teaching children how to stay healthy and make healthy choices, she said.
"Educating children in the fundamentals of personal and dental hygiene, communicable disease prevention, nutrition, exercise, heart health and character development ensures a healthier community in the long run" , she said. "Plus, putting students and their families in touch with the resources they need. Our dental training and dental clinic are just one part of our extensive training program.
"Our dental learning lab is a hands-on, interactive oral health education set up at stations that classrooms go through in about 20 to 30 minutes," she added. "The stations are designed to be age appropriate for each grade level and use concepts to expand students' knowledge of oral health care. "
Wilfong said that HKOP works to teach children about dental health.
"The goal of our lab is to provide our students with dental education that is not readily available to them during the middle school day," she said. "Our goals are to inspire and empower students to learn and want to take care of their teeth, to alleviate the anxiety of going to the dental clinic and to practice the basic skills we let's talk in clinic. We want to instill in them good oral health habits, knowledge about the impacts of medications and other risky behaviors, and encourage them to visit their dentist every six months for a check-up.
There are different lessons for different ages.
"In Kindergarten and Grade 1 we all talk about the basics, brushing and flossing," Wilfong said. "What do we use our mouths for, talking about, eating and smiling for!" In grades two and three, we talk about the importance of dental sealants, how sugary foods affect their teeth, fluoride, and proper brushing and flossing techniques. In grades four and five we start to talk about tobacco products, parts of a tooth, and why using mouthguards while playing sports is so important. From sixth to eighth grade we talk about tooth parts, smoking, dental careers, orthodontics, and sugary foods and drinks. From grades 9 to 12 we talk about orthodontics, dental anatomy, dental careers, effects of drugs / tobacco and other oral diseases.
COVID-19 has had a significant impact on HKOP.
"Our program thrives by being face-to-face and hands-on," said Wilfong. "Unfortunately, during COVID, there were updated rules and mandates that hampered our ability to always be in person. So, to combat this, we have created virtual options for our schools. These virtual options give us the ability to continue offering our dental education to every student, but put our schools at risk. We are also using these virtual options this year when schools do not have room for us. We also rely heavily on community volunteers to help us with our presentations, but during the pandemic, in order to protect everyone, we tried to limit our use of volunteers. "
Wilfong loves to make a difference in the community.
"I love knowing that I am making a difference in the community I grew up in," she said. "I love knowing that at some point in my day I might have said something that would stick with a child for the rest of their life! Something they will think about every day while brushing their teeth.
Skylar Knox is an eighth grade student at Fremont Middle School in Roseburg and a contributing reporter for The News-Review.
[ad_2]