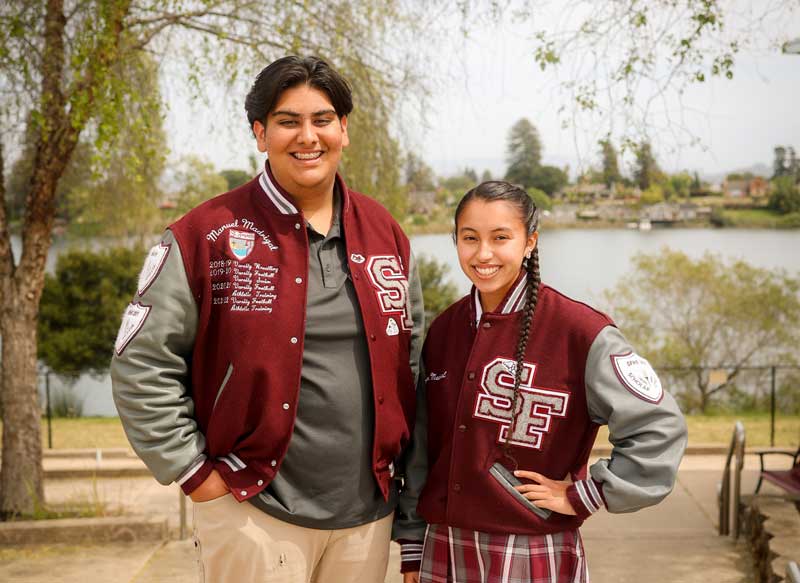 St. Francis graduates look to the future – The Pajaronian
It was after Jocelyn Madrigal attended an event at St. Francis High School (SFHS) that she decided: this was the school for her.
Madrigal hadn't had any family that attended the school, and she didn't know much about it until she visited campus for one of her recurring community days.
"That's when I really discovered the tight-knit community that St. Francis really is," she said. "I loved it, especially how small it was. I loved how all the teachers knew the names of all the students. »
Four years later, Madrigal graduated from SFHS as one of two valedictorians.
"It was definitely a memorable high school experience for me," she said. "I was involved in campus ministry for three years and played volleyball and track and field. It's just open to a lot of experiences. And the teachers here are role models for me, I really admire them.
Madrigal said the school's biomedical science program was a highlight of her time at SFHS.
"I got to do so many labs, I learned so many different things about anatomy," she said. "It really developed my love for science."
Madrigal will attend Santa Clara State University to study biology this fall and hopes to go to dental school to become a pediatric dentist. Before that, she hopes to find time for herself and discover new hobbies.
"I've been so busy," she said. "Hopefully I can set up a new schedule soon, where I can try new things. I want to immerse myself in new experiences, maybe travel, do things I love.
Valedictorian Manuel Madrigal-Hernandez said his history lessons at SFHS stood out for him.
"I'm a big history guy," he said. "It's the one big subject I'm still confident in. My favorite class is definitely AP US History with Mr. Ausman, who is also the school's football coach. I love it because he brings the energy he has on the pitch into the classroom and makes it really fun and entertaining.
Madrigal-Hernandez was involved in many extracurriculars at SFHS, which he says enhanced his experience. In addition to football, swimming and wrestling, he was a member of the ASB for four years. He credited athletic trainer Nicole Sutherland for taking him on as an apprentice coach after suffering an injury during the football season.
"Nicole really helped me rehabilitate, but also helped me stay busy and connected with my teammates at the same time," he said.
This fall, Madrigal-Hernandez will attend UC Los Angeles to study political science. After that, he will turn to law school.
"The dream is to be a judge," he said, "but we'll see what happens. Crossed fingers."
Like his fellow valedictorian, Madrigal-Hernandez said he looks forward to having time after graduation to experiment with simple everyday things.
"Just little things, like running errands and stuff like that," he said. "My life is so busy with school right now. After school I have practice, after that I have homework. Just little things like being in town, doing things I want to do , to be able to have time for me.
Madrigal and Madrigal-Hernandez joined their SFHS classmates on May 28 for their debut, surrounded by family, teachers and staff. A total of 63 students were promoted at the ceremony.
"It seems unreal," Madrigal said. "It came so quickly. The past four years have been amazingly filled with so much. But Saint Francis helped me make the most of it. I'm grateful for that.