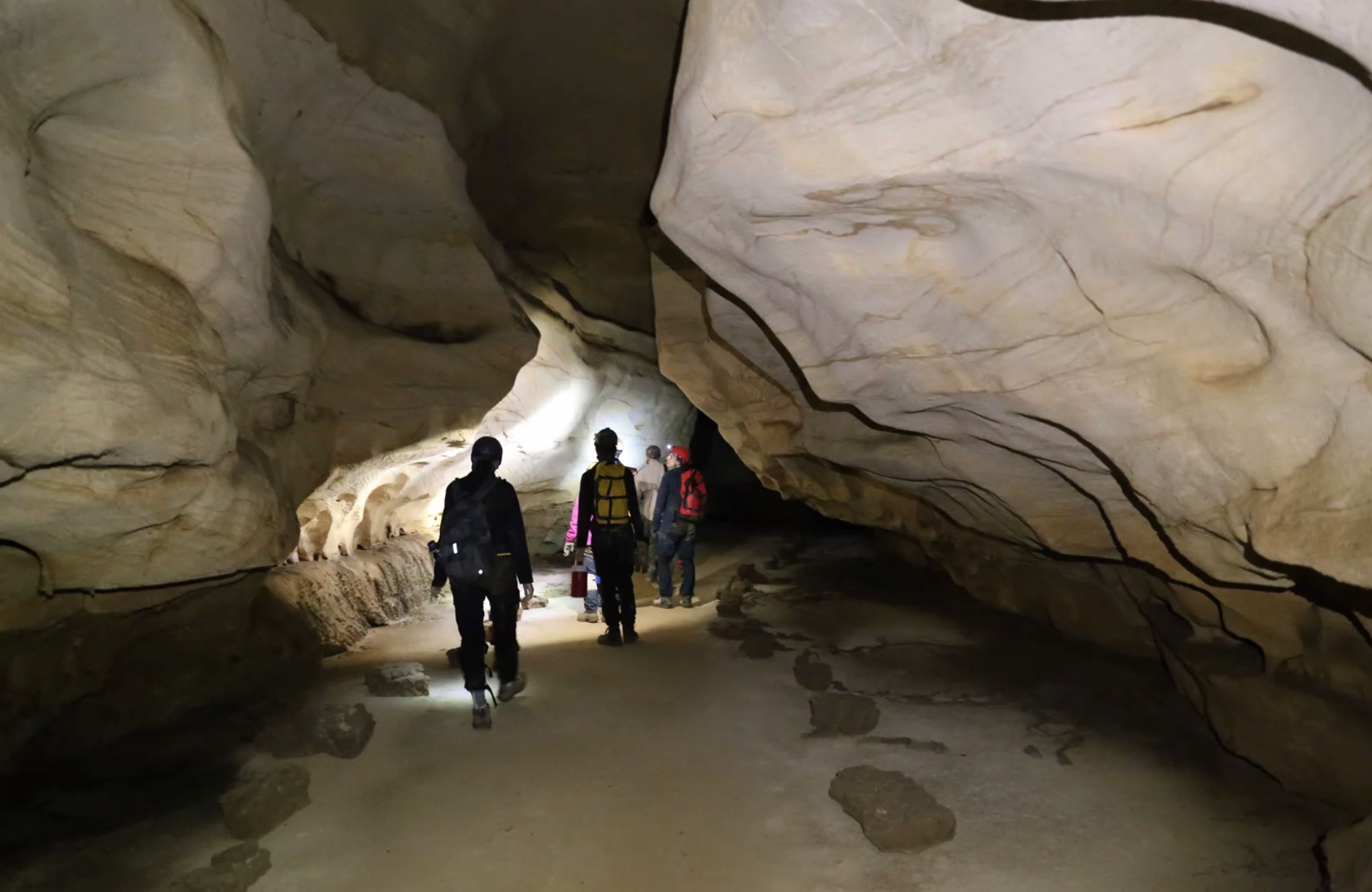 The most brilliant cavers – Bwog
Editor Kate Mekechuk attended the Center for Science and Society lecture given by Professor Sophia Roosth who discussed 'The Interterrestrials', an exploration by the cavers of Mammoth Cave.
It was a hot Wednesday afternoon as I prepared for the most important mission of my life: to walk through John Jay Cave (also known as JJ's Place). I stood at the entrance, heart pounding, palms sweating, and took the first step. One foot in front of the other, I cautiously descended the steep staircase into the realm of the unknown. A brave caver passed me on my left, sprinting as if his life depended on it. I can only assume that his enthusiasm for entering the mysterious JJ's Place was for the Holy Grail: a chocolate milkshake. I walked down the stairs, through the Keeper of the Meal Swipes, got a Holy Grail for myself, and got a seat in the John Jay Cave seating area. There I opened my laptop and watched Professor Roosth's lecture via Zoom. Just as I had passed through the John Jay Cave, Professor Roosth interviewed and wrote about the cavers at Mammoth Cave.
Professor Roosth is currently the Frederick S. Danziger Associate Professor of History of Science at Harvard University. She is also an active author, speaker and anthropologist. Her work focuses on contemporary life sciences, and she is currently writing her next book on the "intraterrestrials" of the world.
Mammoth Cave, located beneath Kentucky, is the longest known cave system in the world, containing over 420 miles of mapped karst limestone. The people Professor Roosth interviews, called "spelunkers", live to map, survey and chart the intricacies of Mammoth. The cavers authorized to study Mammoth Cave by the National Park Service include both scientists and professional cavers. Above ground, cavers rest and research at Hamilton Valley Station, but it's not their primary location. Cavers plan their lives around Mammoth. They are raised in Mammoth Cave. They get married at Mammoth Cave. They go on honeymoon to Mammoth Cave. They have their funeral at Mammoth Cave.
Professor Roosth shared the story of a caver who said exploring Mammoth Cave was a family affair. At only 18 months old, the speleologist descended into the cave for the first time. Later, when she was only eight years old, she joined her first exploration group. She was a gymnast, placed in pits too small for adults to climb. This, as she explained, created a cross-generational attachment to Mammoth.
Next, Professor Roosth shared the difficulties of mapping the gargantuan Mammoth Cave. High-tech computer-generated 3D maps are not only too expensive but use too much storage; about 0.7% of the mapped cave (3 miles) uses terabytes of storage. Based on an estimated size of Hamilton Valley Station, it is unlikely there will be enough physical space to store 3D map data. For this reason, cavers go between known survey points, measuring inclination, direction and distance. This data is recorded and plotted in a hand-drawn sketch of the cave. The cavers then move above ground to redraw the maps, taking up to an hour to draw 100 feet of cave. In addition, this method allows cavers to become more familiar with the cave when exploring and studying the underground city.
When visiting Mammoth Cave, Professor Roosth described it as another world: linear time becomes fluid and all that exists is the present moment. Walking down a hallway, she explained, there may be a newspaper from the 90s juxtaposing the ancient shark teeth that covered the ceiling when the cave was underwater. A cracked liquor bottle lies beneath the drawings of the native tribes who first explored Mammoth around 5,000 years ago. You walk through a passage that is part ocean and part beach, crossing two very different time periods simultaneously, becoming a previously only fictional time traveler.
Listening to Professor Roosth speak was transformative. His eloquent lecture was accompanied by a beautiful presentation, highlighting the love cavers feel for Mammoth. I didn't know Kentucky had the largest known cave system in the world, but now that I know it's definitely on my bucket list. However, I may need to explore other caves in between, as John Jay Cave may not have prepared me enough for the journey ahead.
Spelunkers via Professor Roosth's lecture