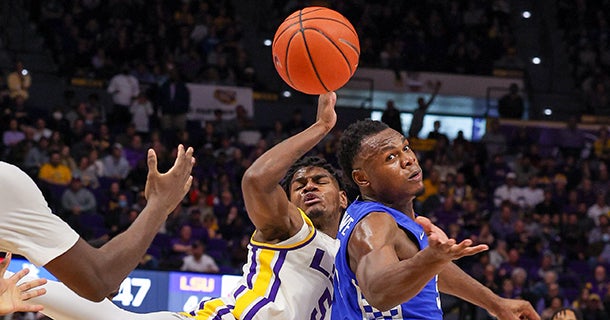 What to do with the loss in the UK? Not a daddy-gum thing
So what should we do with Kentucky's 65-60 loss to LSU on Wednesday?
Not a daddy-gum thing. Rinse it off, forget about it and get ready for Saturday's game against Georgia at the Rupp Arena.
Normally, there would be a lot to dissect from a conference road loss, especially one in which Kentucky performed so poorly after playing an impressive role for much of December.
We would analyze the impact that the loss could have on the team in the future, or we would question the need for changes in composition and a new global strategy.
But none of that is justified because it wasn't Kentucky.
– It was a team that lacked one of the best leaders in the country. Sahvir Wheeler played just four minutes before crashing into a screen and being so dizzy he had to be helped from the ground.
– He was also missing the team's only other point guard for the critical last 10 minutes. TyTy Washington cramped so severely that when he tried to come back he looked like a newborn stallion testing wobbly legs.
– It was a team without the best rebounder in the country, Oscar Tshiebwe, for nearly 12 minutes in the first half because he committed two faults.
– This is a team that saw one of the best 3-pointers in the country miss all six tries in the first half. Kellan grady had made 50 percent of his 3s before that collapse of the first half.
– It was a team forced to tinker with a roster to win an SEC road game in front of a hostile crowd at the start of the conference.
The trainer used to say, "I'm going to burn this tape on the bus ride to my house and throw it in Mississippi." Either way, saying "I'm going to press delete" just doesn't have the same weight.
So what tangible details, if any, can be recovered from the loss?
– If you see that your teammate is about to crash into a brick wall at full speed, say something. Say anything.
– Jean Calipari may need to revise his hard and fast rule to keep a player on the bench who picks up two early fouls. Oscar Tshiebwe sitting for 12 minutes with two faults. He finished the match 20 minutes later still with only two fouls.
– Critics of Calipari's ability as a bench coach are rife and they remain mystified by a simple fact. How can a coach who is such a control freak throughout the game not ask for a time out in the dying seconds if only to impose his wisdom on the team before the final game? That night, to be fair, Calipari claims he was calling for a time out with the UK down three points, but no one heard him.
– Free throws can hide a lot of wrinkles. Despite horrible times of play, it comes down to the fact that Kentucky lost five points and missed 10 free throws. Some were not just misses, but airmail misses. At this level of sport, it is inexcusable.
– Jacob Toppin was remarkable the first half, invisible the second. This has been the case throughout their career, which is why Kentucky has yet to assess the four-place game by the combined contributions of Toppin and Keion brooks. Against LSU, there is a false positive since the duo have 16 points and 11 rebounds. In the second half, when Great Britain needed it most, they combined for a point.
– When times are tough – and they don't get much harder than playing without a real point guard – Kentucky is always a victim of the wrong people taking the wrong shots at the wrong time. The crisp ball movement and nice attack that we had seen disintegrated into the players trying to win the game on their own. Hero ball, like Jean Calipari calls him.
– Finally, the most important thing to remember is to learn from the loss. There's no longer a standing player who can't look at himself in the mirror before returning to the pitch on Saturday against Georgia.